news
September 16, 2020
Accomplished Litigator George Spatz Joins Amin Talati; Will Lead Ligation Practice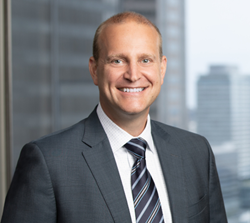 Leading regulatory and intellectual property law firm Amin Talati Wasserman LLP today announced that prominent litigation attorney George Spatz has joined the firm as a partner and is leading the firm's litigation practice group.
CHICAGO (PRWEB) SEPTEMBER 16, 2020
George Spatz has nearly two decades of experience litigating cases in federal and state court, alternative dispute resolution proceedings, as well as before government agencies. He represents food, beverage, dietary supplement, cosmetic, drug, medical device and technology companies in a wide range of matters, including asserting and defending against intellectual property (trademark, trade secret, patent, copyright) claims, false advertising disputes, and contract disputes associated with manufacturing, supply, distribution, services, information technology, software, and other business arrangements and agreements.
George joins the firm from McGuireWoods, where he was a partner in the litigation group. He was the recipient of the 2018 MillerCoors Outside Counsel of the Year award. The client explained "George does an excellent job explaining complex technical matters to the lawyers and keeping the legal team updated with timely communication. He's a superb listener, he's patient, he's respectful and we love working with him."
"I was drawn to Amin Talati because even though it is still a young, growing firm, it has attained an international reputation for excellence and unbelievable list of clients in the industries it serves," said Mr. Spatz. "The opportunity to step-in and lead the litigation practice in a firm like this was one I could not pass up, and I am grateful for the trust they have put in me."
"While we are best-known for our regulatory and IP practices, we have always had a talented and tenacious litigation group fighting and winning for our clients," said Rakesh Amin, a firm co-founder. "George is the incredible result of a multi-year, nationwide search for the ideal attorney to lead the group. We are very confident that an attorney, and person, of George's caliber will further our vision of being an industry-focused law firm with unrivaled dedication to our clients, and to each other."
About Amin Talati Wasserman LLP: 
Amin Talati Wasserman LLP is one of the nation's leading regulatory and intellectual property law firms with offices in Chicago and Washington, D.C. The firm represents a sophisticated client base — including Fortune 500, middle-market and emerging companies — in the food, dietary supplement, pharmaceutical, cosmetic and medical device industries. For more information, visit http://www.amintalati.com.
https://www.prweb.com/releases/accomplished_litigator_george_spatz_joins_amin_talati_will_lead_ligation_practice/prweb17392750.htm